Stake & Boost on Curve & Convex
Sep 22, 2023
Key Insights
Curve Finance pools allow optimized stablecoin swaps, but were hit by a $50M+ hack showing vulnerabilities.
Adding liquidity to Curve involves depositing assets into a pool to earn fees, with CRV/TRICRYPTO offering 0.55% yield currently.
Convex Finance boosts Curve pool yields through LP token staking - the CRV+crvUSDBTCETH pool offers 16.4% yield.
Curve Finance is a decentralized financial protocol that allows for liquidity optimization and low fees when exchanging stablecoins and other crypto across various blockchains like Ethereum, Binance Smart Chain, and Polygon. The Curve Finance project is built on smart contract technology.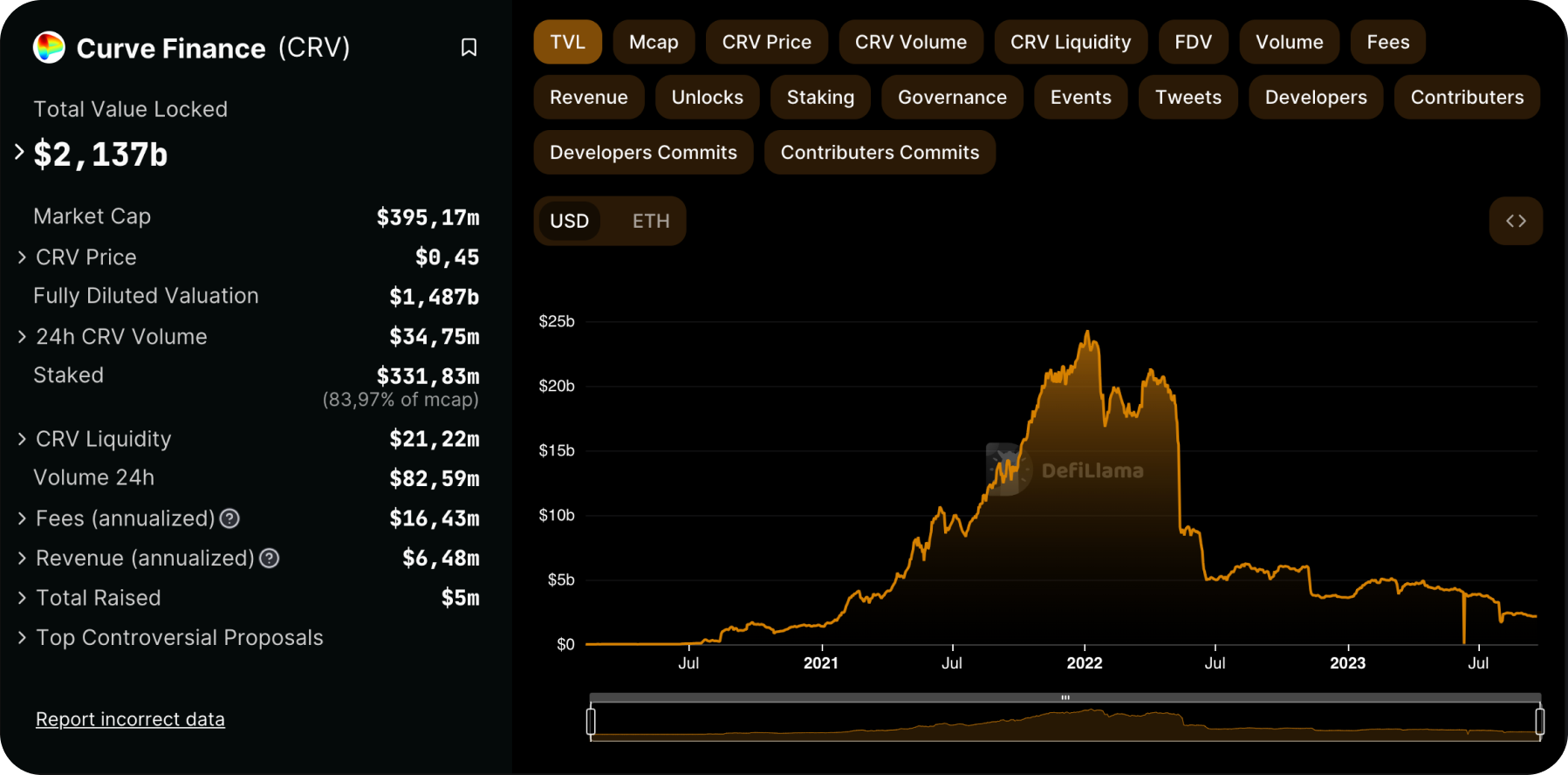 In July 2023, Curve Finance was subjected to a hacking attack, resulting in the theft of over $50 million. The investigation is ongoing, and the exact damage amount is yet to be determined. The team is working on addressing vulnerabilities, and white hat hackers have assisted in recovering a portion of the funds. The community is actively discussing the incident, and the price of CRV (Curve's native token) has decreased by 22.18%.
This incident has also affected the total value locked in the project. However, reaching a record high of $2.137 billion indicates that users maintain trust in the project and confidence in its ability to handle such situations.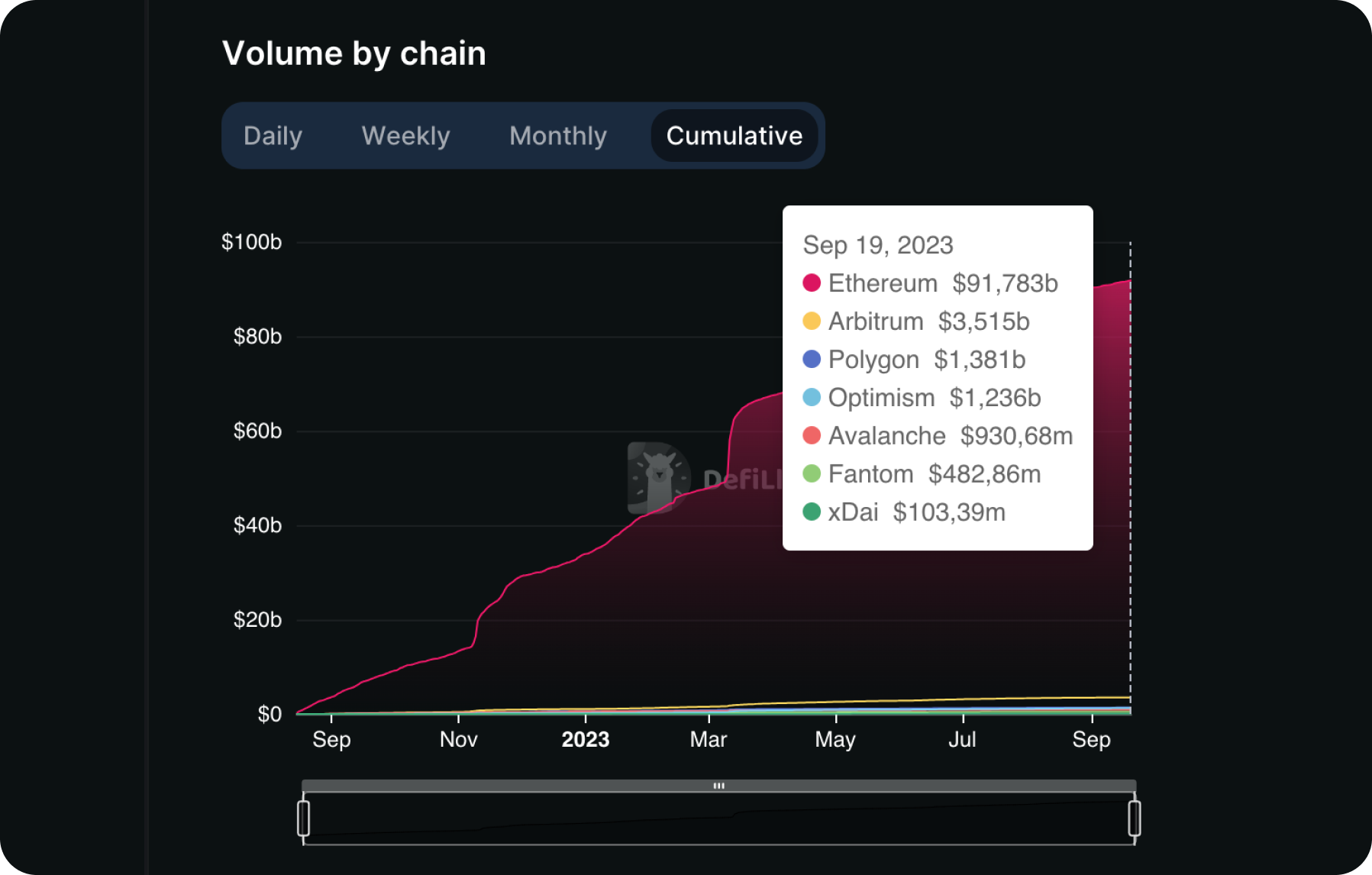 Ethereum remains the leader in terms of volume, followed by Arbitrum, and Polygon is in third place.
Below is a strategy on the Polygon network related to liquidity in the CRV/TRICRYPTO pool.
How to Add Liquidity to Multi-Asset Pools
Make sure you have CRV, USDC, USDT, DAI, WETH, and WBTC in your wallet in the required quantities (you will also need MATIC as an asset for transaction fees). 
However, to add assets to the pool, you can use one of these assets that will be distributed to the pool assets with a smart contract in the required proportions.
You can get all these coins on SimpleSwap.
Visit the Curve Finance website and connect to your wallet (e.g., MetaMask).
Go to Pools and select the multi-asset pool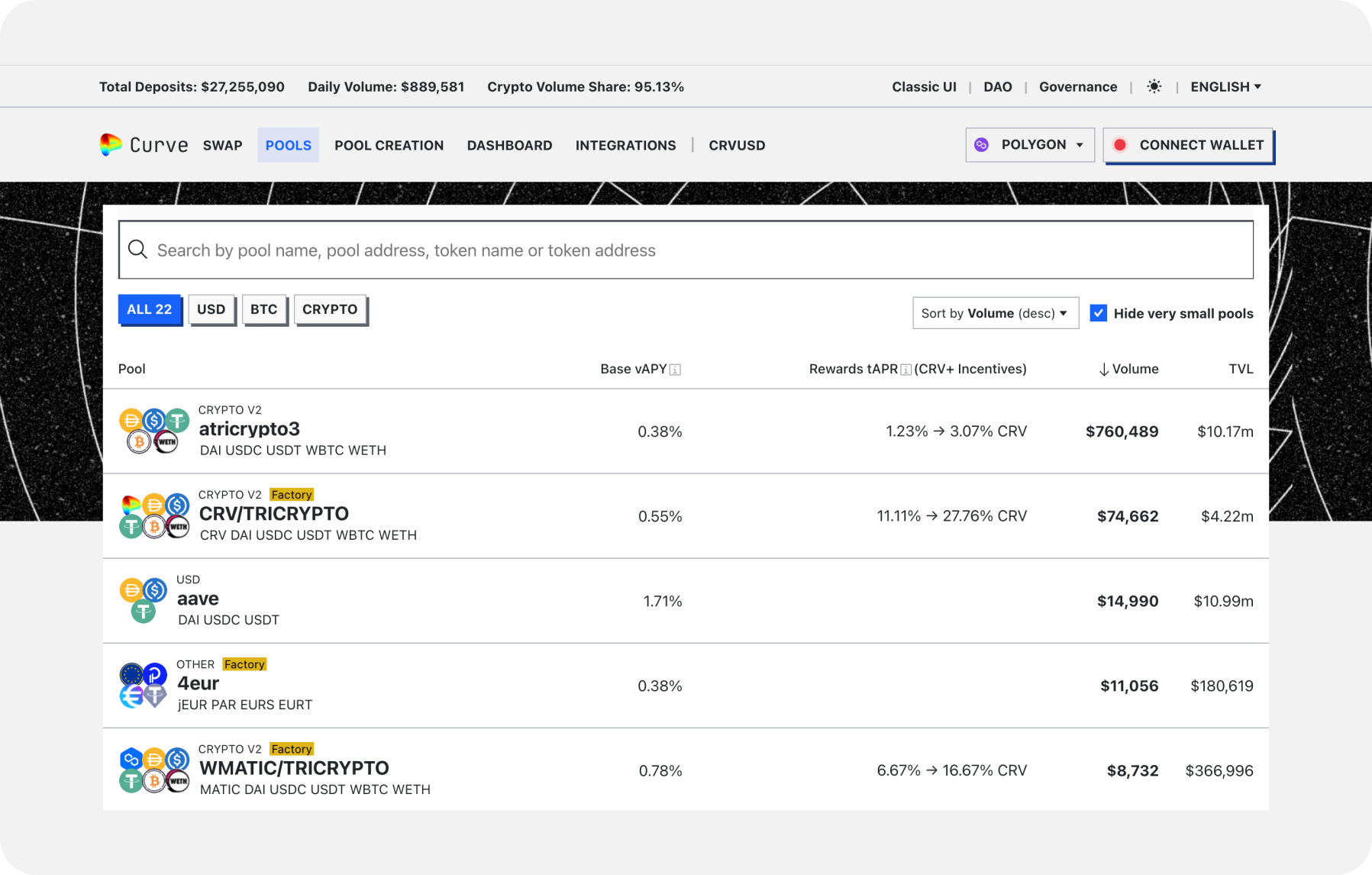 You need to find the one that includes CRV, TRICRYPTO, WETH, and WBTC here.

Select Deposit to add liquidity
Specify the amount of assets to add to the pool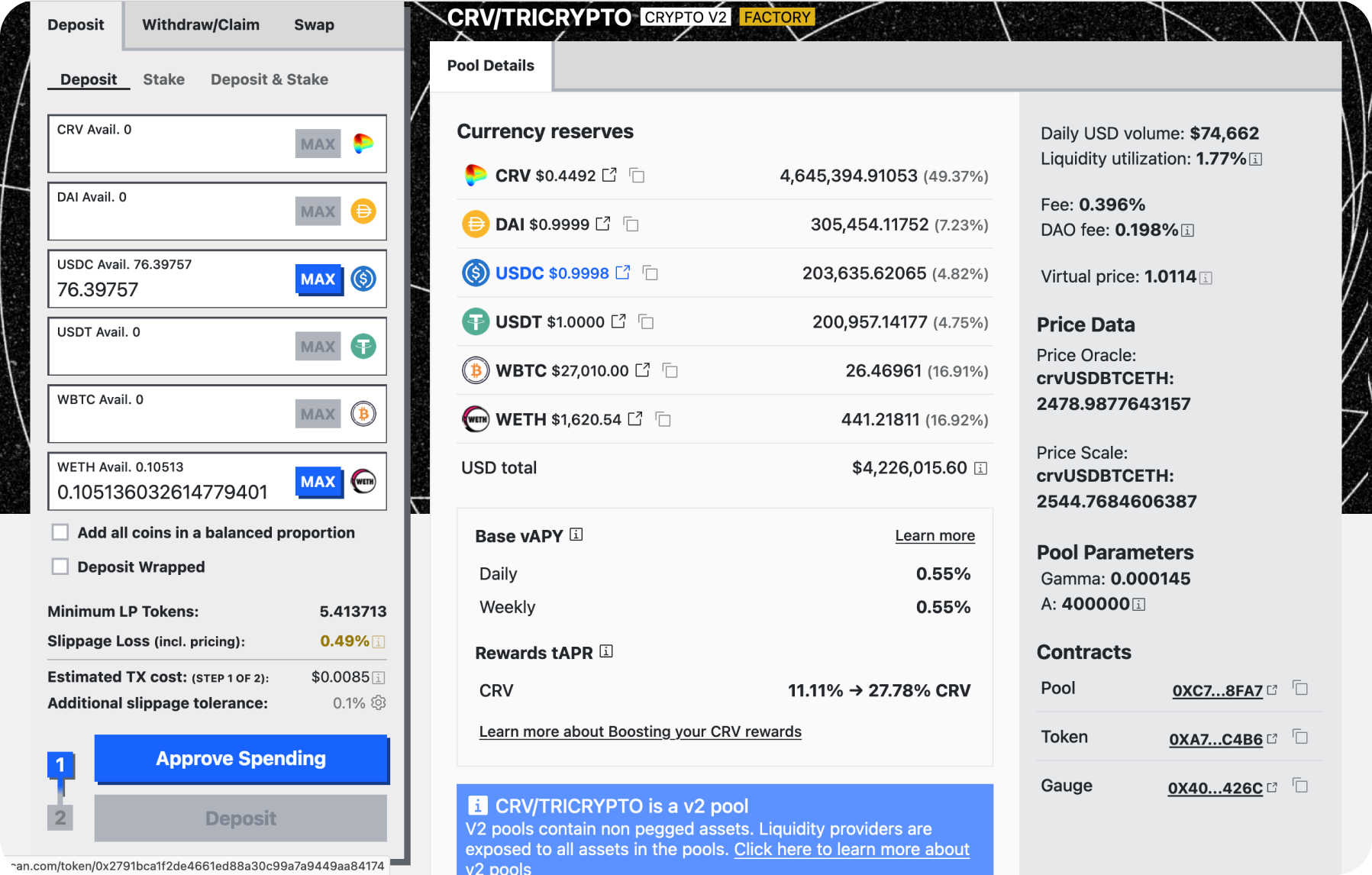 You can specify amounts for each of the assets or choose one asset and convert it into a basket of assets (CRV, TRICRYPTO, WETH, and WBTC). We use WETH and USDC.
Confirm the transaction in your wallet
Wait for the transaction to be processed on the Polygon network
Don't worry, this may take some time, especially if the network is congested.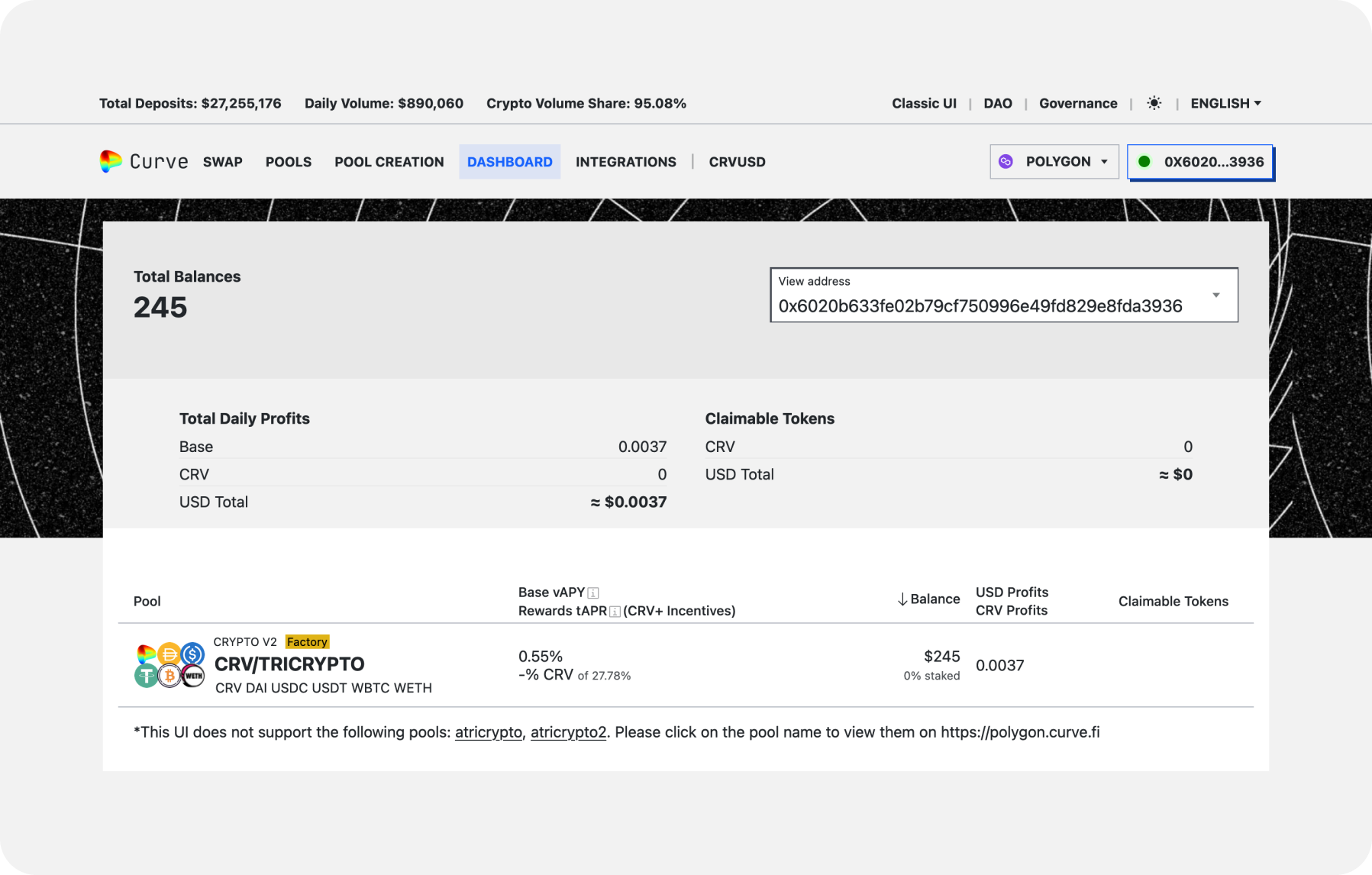 After successfully adding liquidity, you can earn transaction fees. It's worth noting that our reward will be calculated in dollars. The current yield is 0.55%.
When dissolving the pool, we will be able to withdraw the entire amount in one asset (One coin) or in a evenly distributed basket (Balanced amounts).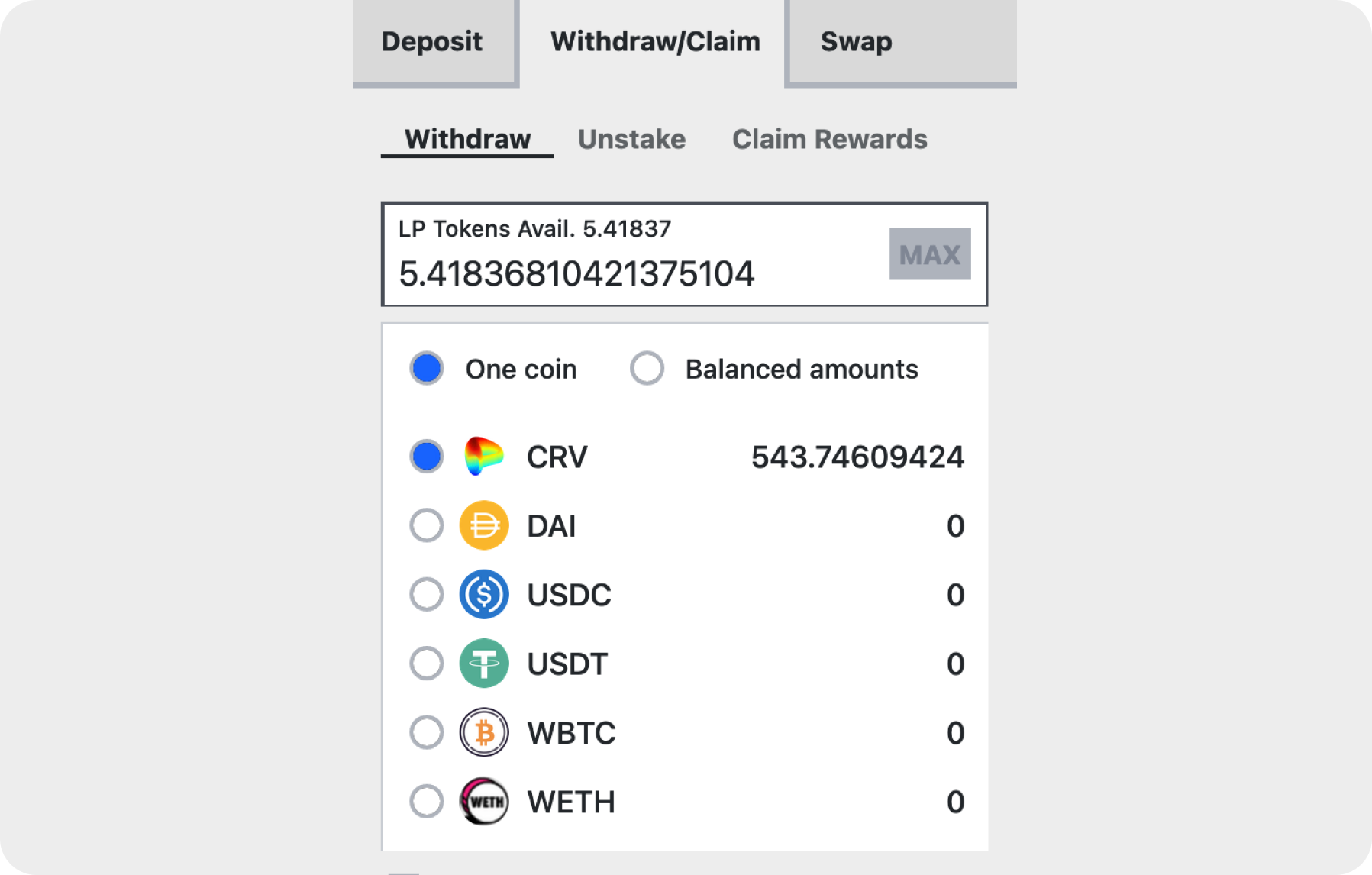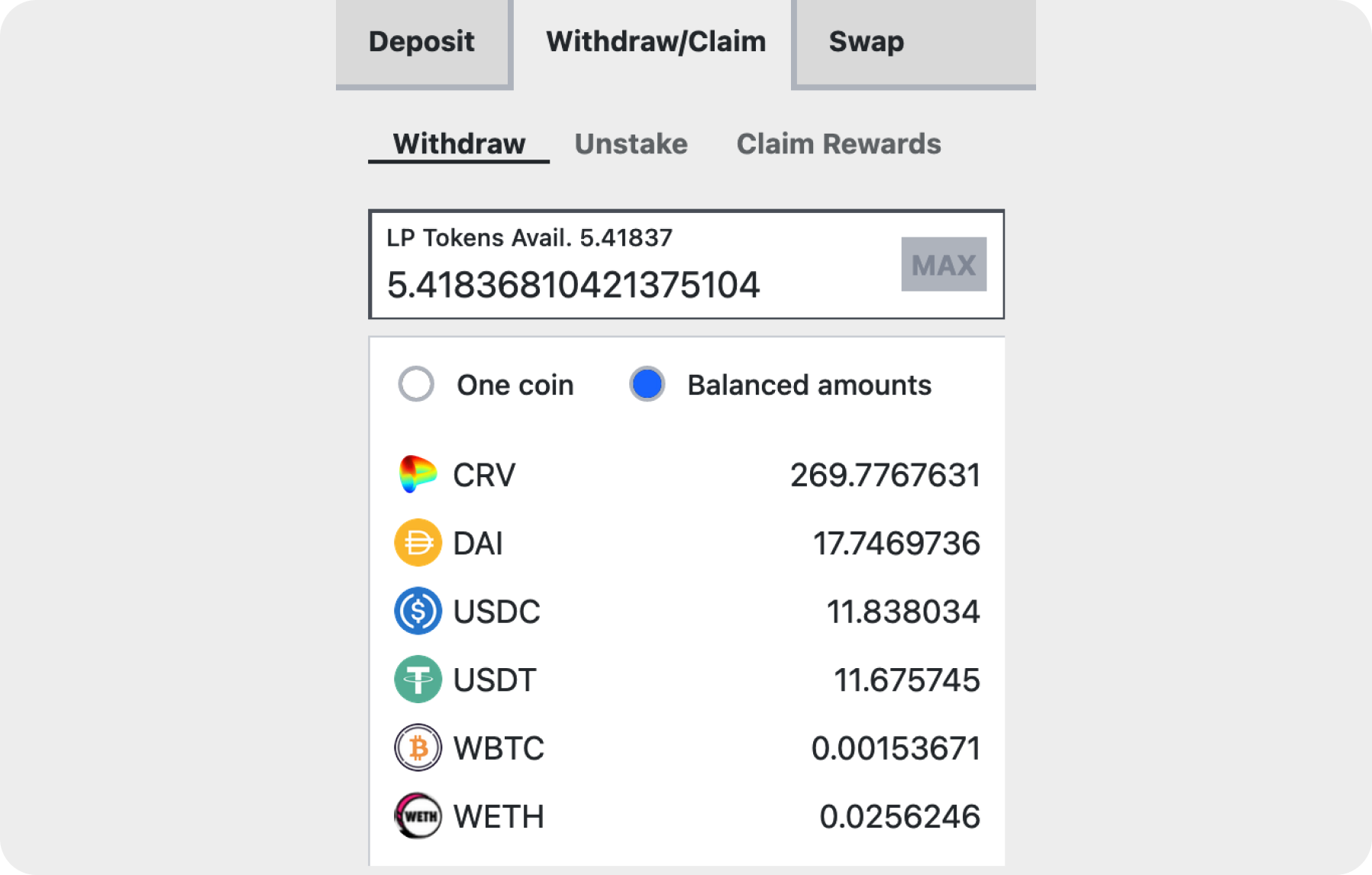 Now, let's move to the Convex Finance project, which will increase the yield of our pool to 16.34%. This DeFi platform based on Ethereum helps maximize yield on stablecoins and other assets through LP token staking.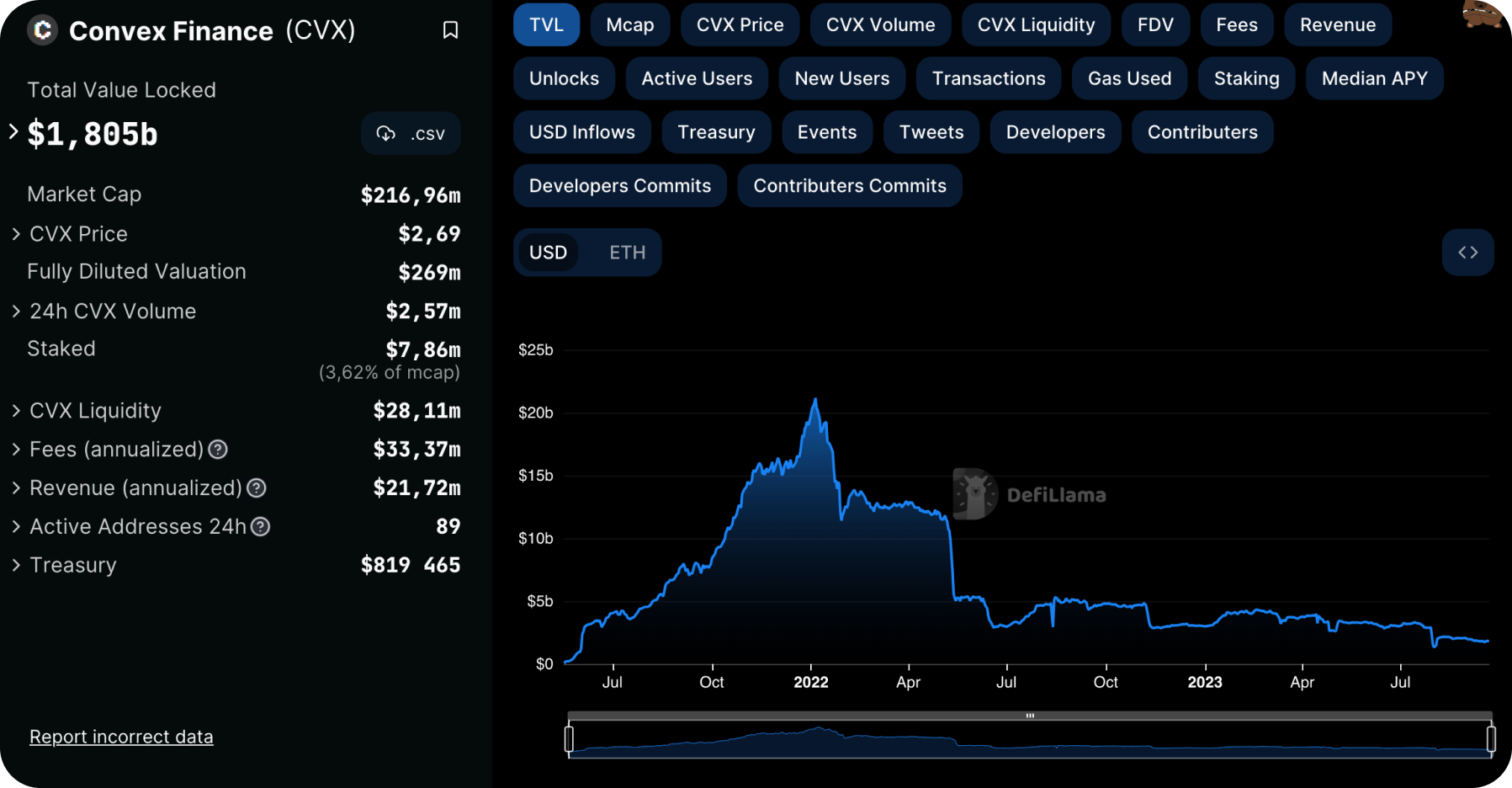 It's a powerful project with a significant total value locked of $1.805 billion, confirming user trust.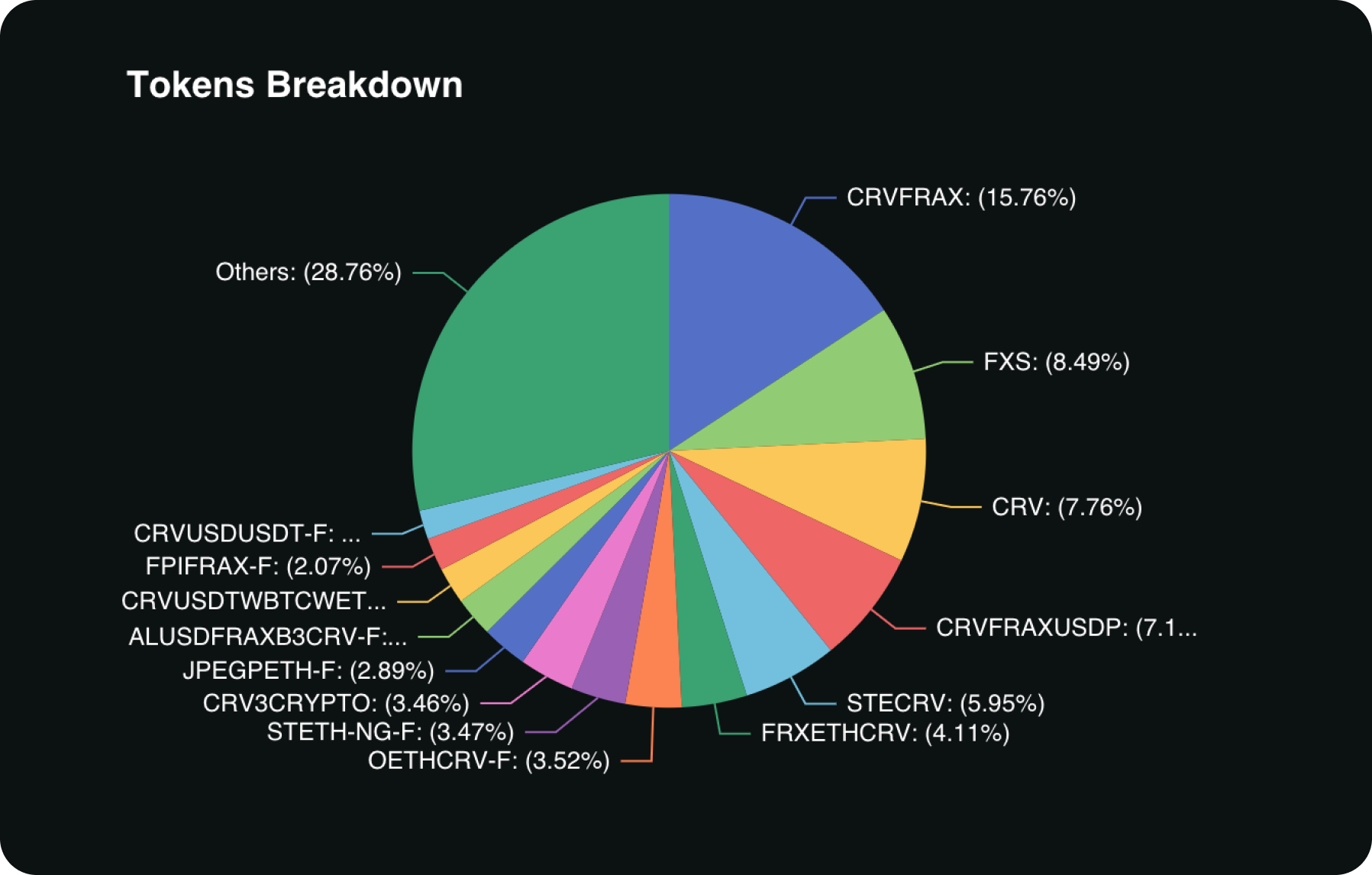 Above are some of the popular pools on Convex Finance.
How to Increase Yield on Convex Finance
Connect your wallet choosing one of the supported wallets (e.g., MetaMask). Then click Stake.
Choose the CRV+crvUSDBTCETH pool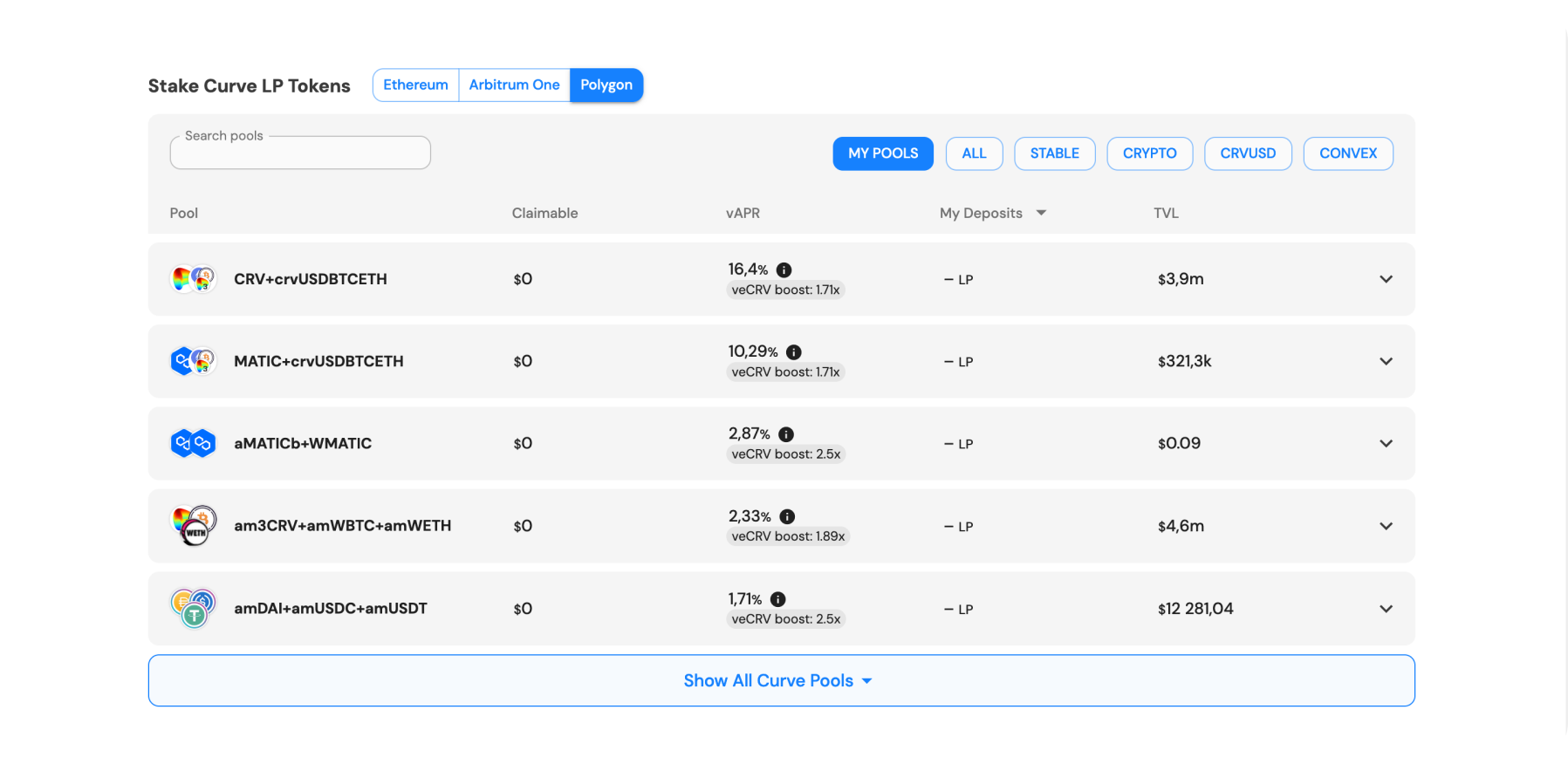 Choose the first pool for the Curve Finance LP tokens.

Add your LP tokens to the pool.
Voila! Here's how you get an increased yield of 16.4% on the LP tokens.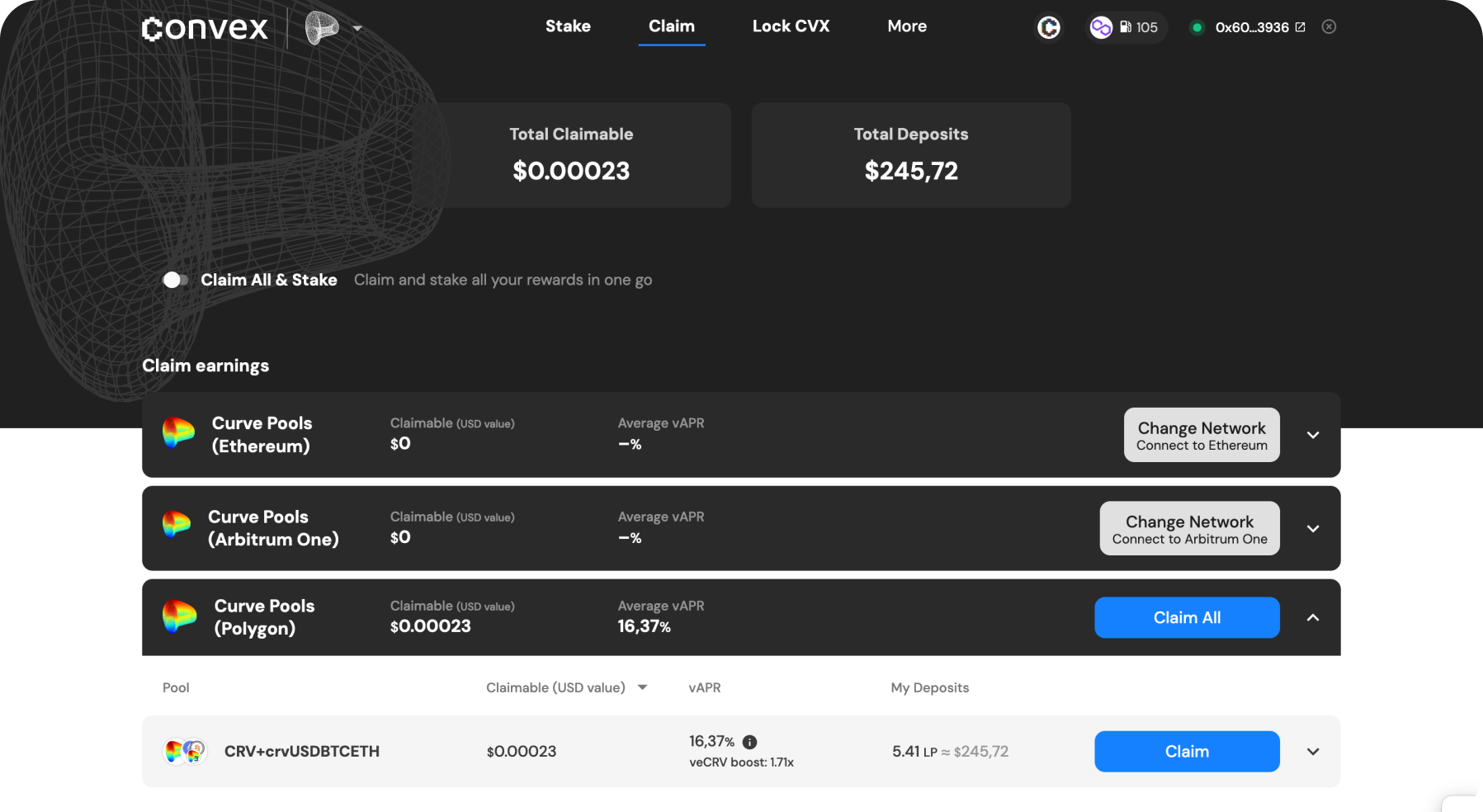 You can claim your earnings whenever it's enough to withdraw the accumulated assets.
The information in this article is not a piece of financial advice or any other advice of any kind. The reader should be aware of the risks involved in trading cryptocurrencies and make their own informed decisions. SimpleSwap is not responsible for any losses incurred due to such risks. For details, please see our Terms of Service.