NEAR Protocol Technical Analysis
Nov 3, 2023
Key Insights
The NEAR Protocol is a Layer-1 blockchain focused on creating a scalable infrastructure for dApps through features such as sharding and shuman-readable account names.
The NEAR token price has seen significant growth in 2023, increasing more than 133% since early January.
After strong gains, NEAR coin is currently facing resistance around $1.35, but further gains are expected if key resistance levels are broken.
As of writing, the NEAR crypto holds the 39th position on CoinMarketCap with a market cap of $1,346,332,807. Users can get the NEAR coin for fiat or crypto on SimpleSwap.
What Is
NEAR Protocol
NEAR Protocol is a Layer-1 blockchain that was created in 2017 by Ilya Polosukhin and Alexander Skidanov. It uses a novel consensus mechanism called Nightshade to achieve high transaction throughput.
The goal of NEAR Protocol is to provide a community-run cloud computing platform that enables developers to easily build decentralized apps. It has a native token called NEAR that pays for transaction fees and storage.
The NEAR blockchain scales by sharding the network into smaller parallel chains to process transactions faster. It also uses human-readable account names instead of long cryptographic addresses. Overall, NEAR Protocol aims to deliver an intuitive and highly scalable blockchain infrastructure for dApps.
NEAR Protocol

Price for Today

Since the beginning of 2023, the NEAR crypto price has shown a remarkable upward movement starting at $1.235 and reaching $2.843, indicating a growth of over 133%.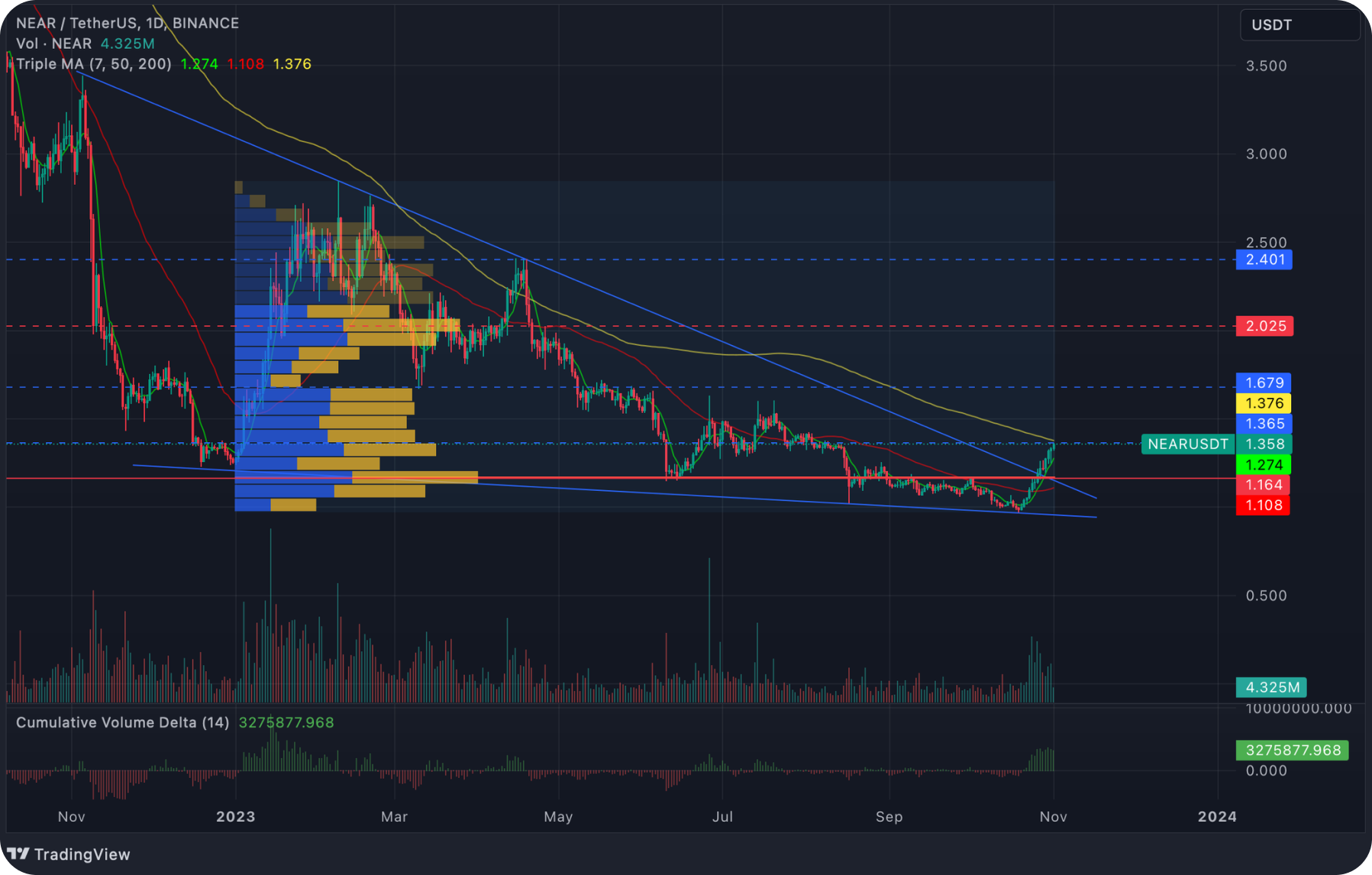 This was followed by an extended correction phase lasting 290 days. As a result of the correction, the local downtrend came to an end, and the minimum reached a new low at $0.970. During the correction, an inclined resistance level was formed, which withstood 4 attempts to overcome it.
The breakthrough of the inclined level occurred when the price reached $1.174. Currently, the NEAR crypto is trading at a price of $1,358 with increased trading volumes and a growing cumulative delta.
The NEAR crypto price is in a rather complex situation, as it is confined within narrow horizontal boundaries, and the upward movement is encountering significant resistance. This implies that the asset's growth is facing certain difficulties.
NEAR Protocol

Price Prediction

It is projected that from the current price level, a minor correction in the NEAR crypto price might occur, after which there may be a moment of retesting the already breached inclined level. In the case of a successful test of this level, subsequent upward movement is possible.

This movement is likely to be characterized by smoothness and stability.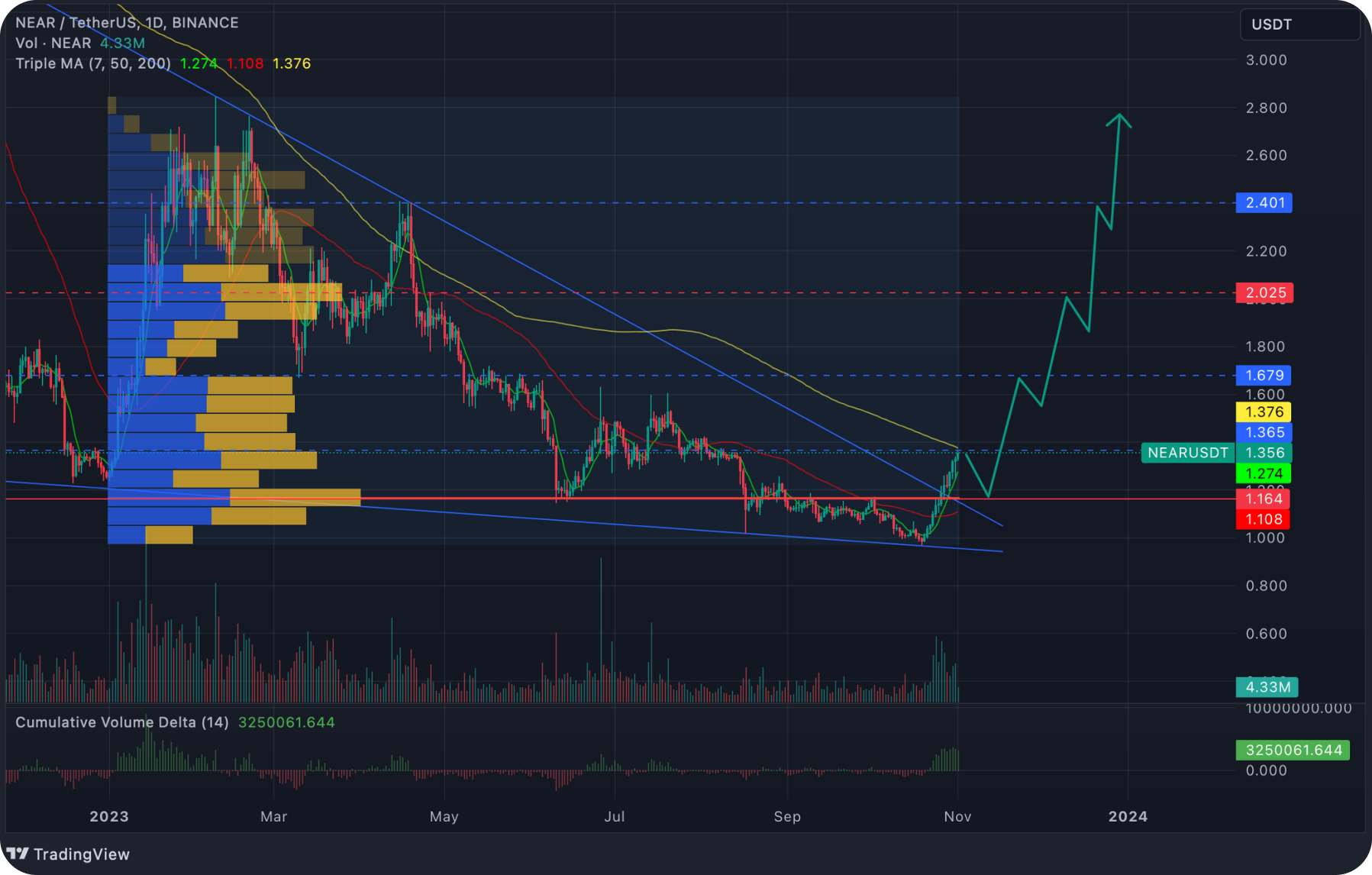 If the NEAR crypto price can overcome the substantial resistance level set at $1.368, the next target could be $1.679. Following the achievement of this milestone, further growth of the assets is possible based on the current dynamics.
The information in this article is not a piece of financial advice or any other advice of any kind. The reader should be aware of the risks involved in trading cryptocurrencies and make their own informed decisions. SimpleSwap is not responsible for any losses incurred due to such risks. For details, please see our Terms of Service.