Uniswap Stablecoins Farming
Apr 17, 2023
Let's dive in crypto yield farming with a liquidity pool on Uniswap V3.
Uniswap V3 is the third version of the Uniswap decentralized crypto exchange based on the Ethereum blockchain technology. The main difference between Uniswap V3 and previous versions is the ability to create pools with more flexible pricing logic. This allows us to improve the efficiency of using liquidity and reduce losses on the exchange of crypto.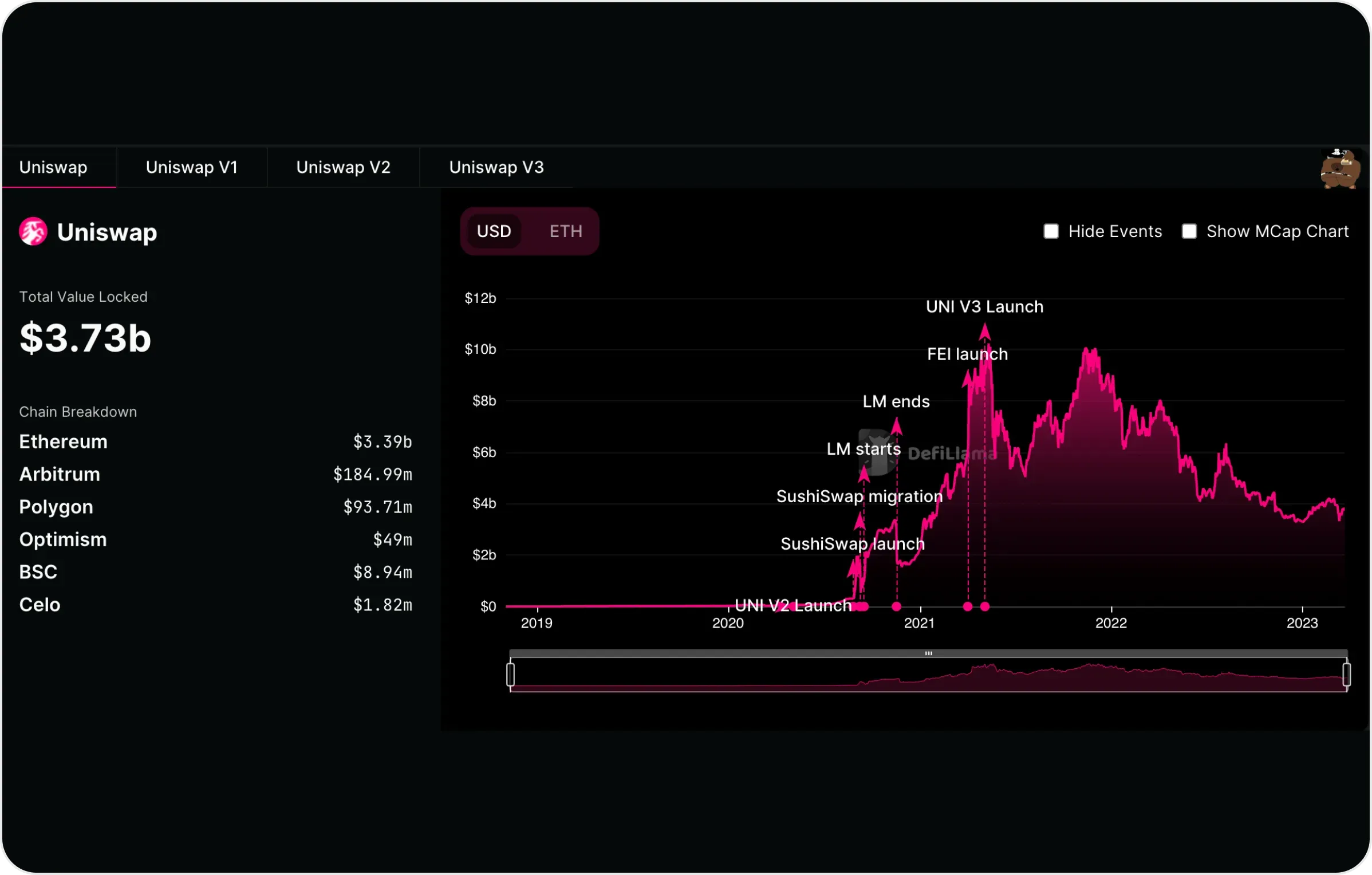 Every time there is an exchange between two tokens in the pool, you get a share of the commission for that transaction. The size of your share depends on how many coins you have deposited into the pool compared to the total liquidity in the pool.
Since USDC and USDT are stablecoins, they are not subject to significant price fluctuations, which makes them a solid choice for investors who want to minimize risk.
How to add liquidity to the pool?
1. Top up your Ethereum wallet with SimpleSwap
Before you can add liquidity to the Uniswap USDC/USDT pool, you need to have an Ethereum or Polygon wallet that supports these tokens. Top this wallet up with USDC and USDT.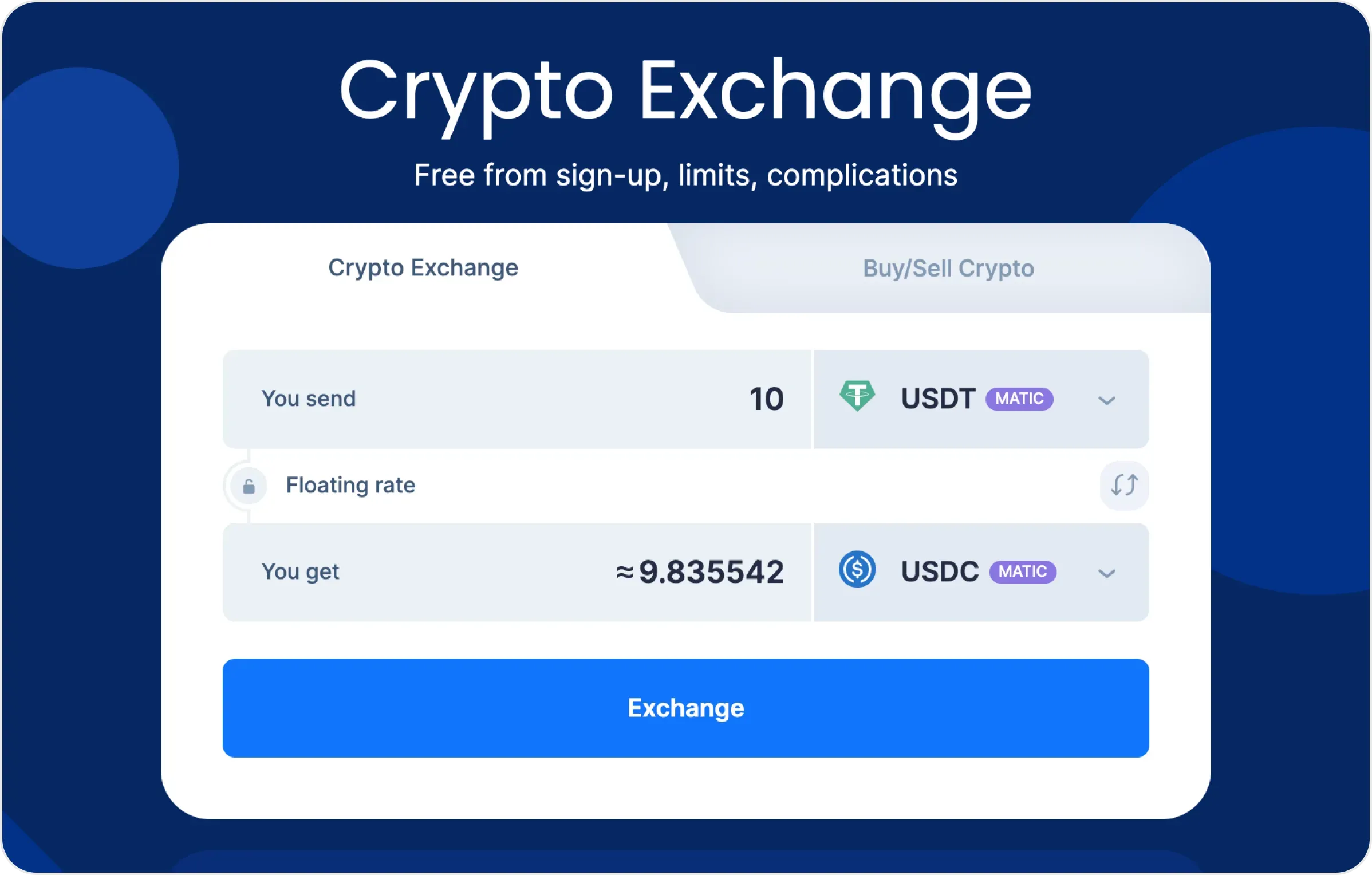 Connect to your wallet. Press +New Position and choose USDC and USDT on Polygon.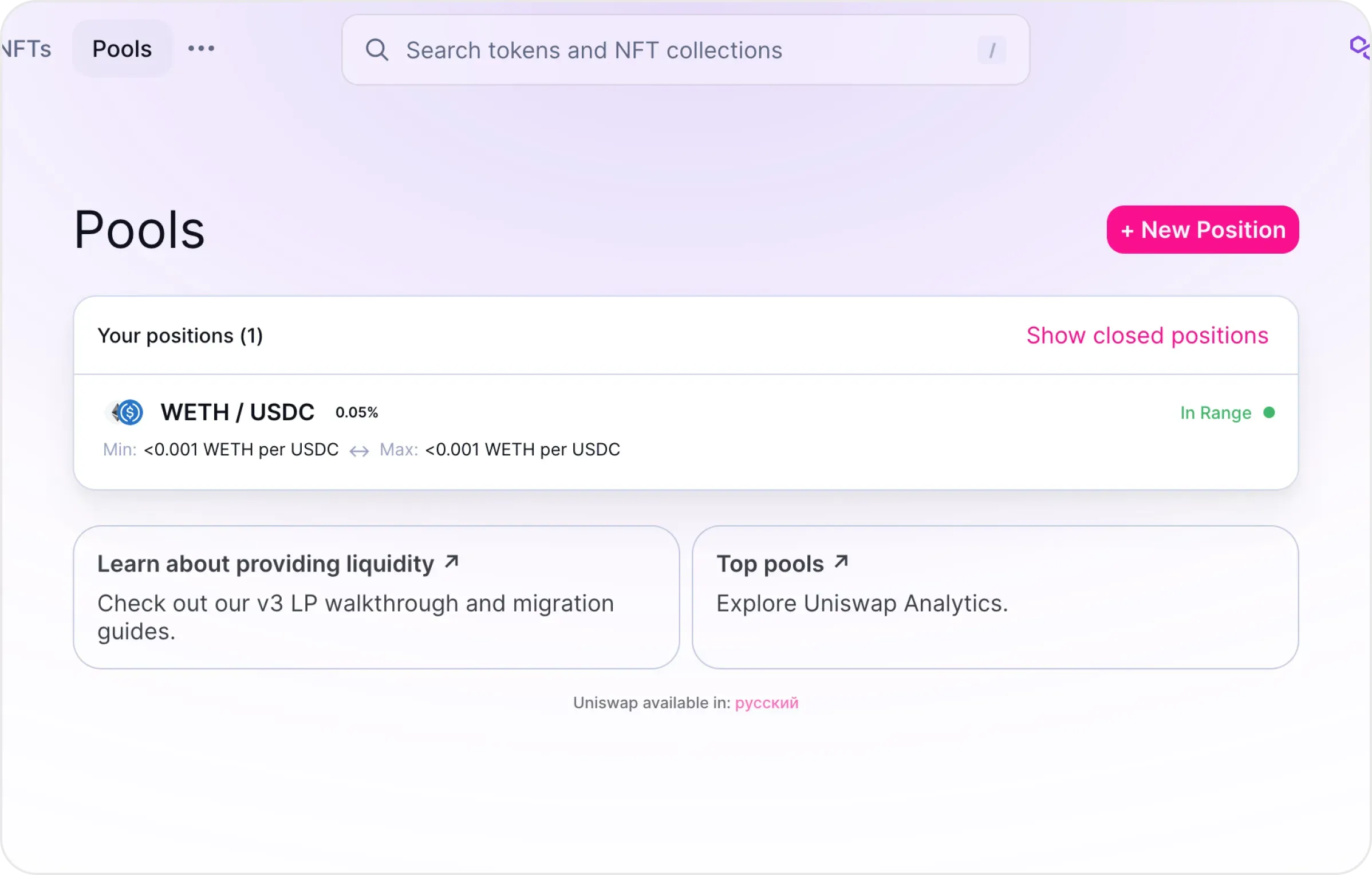 3. Go to Set Price Range
Choose the type of pool by commission and the price range you want to use for your pool. In our case, this will be 0.01%, since 85% of the liquidity is in the pool with this commission. Choose the volatility range.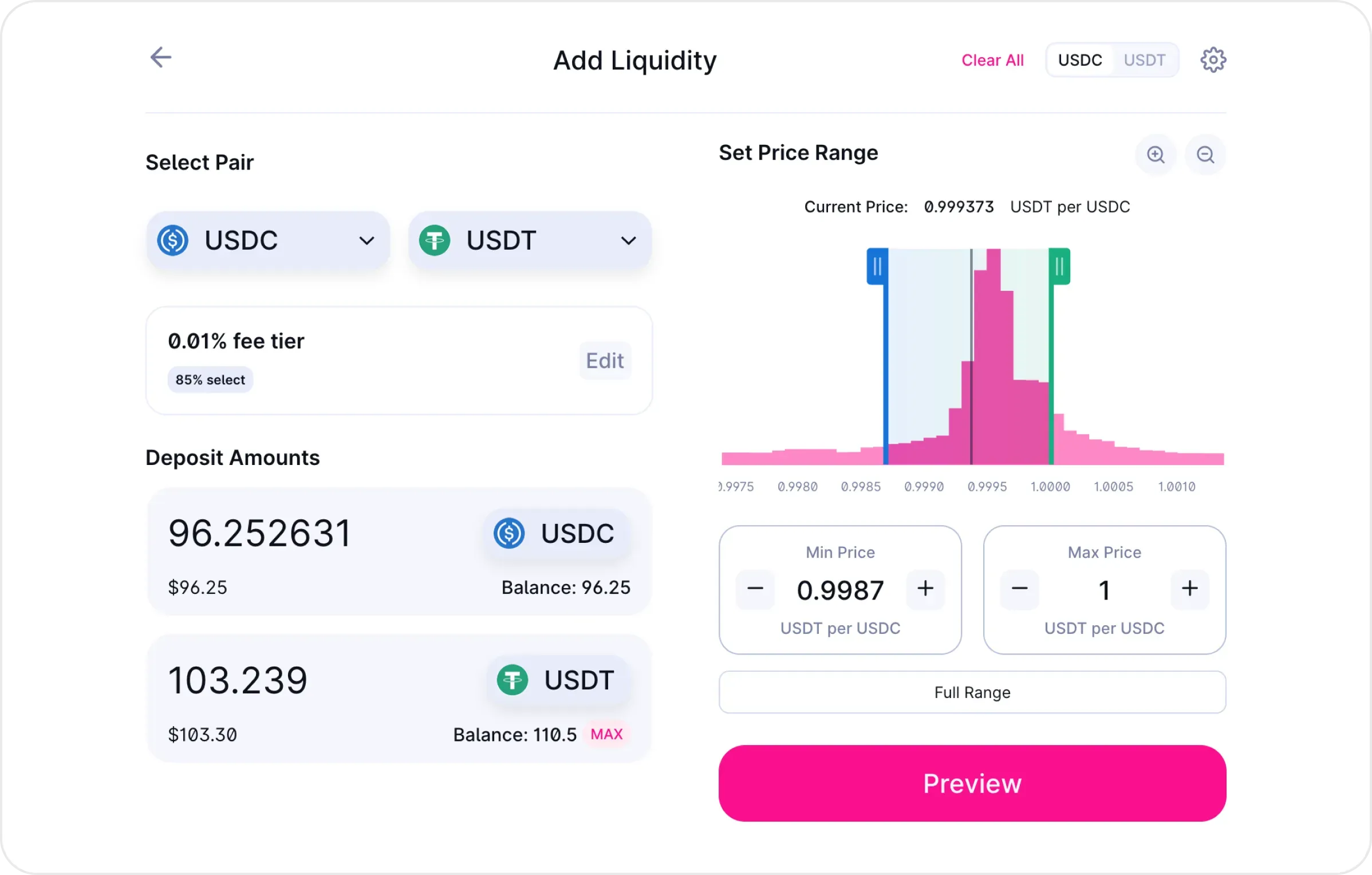 4. Press Add to create a pool
Enter the amount of liquidity you want to add to the pool in the appropriate field in the Deposit Amounts section. Approve the selected assets and click Preview. Make sure the pool is created correctly and click Add.
5. Enjoy your commissions
We're all set. Your stablecoin pool has been created and is already earning commissions.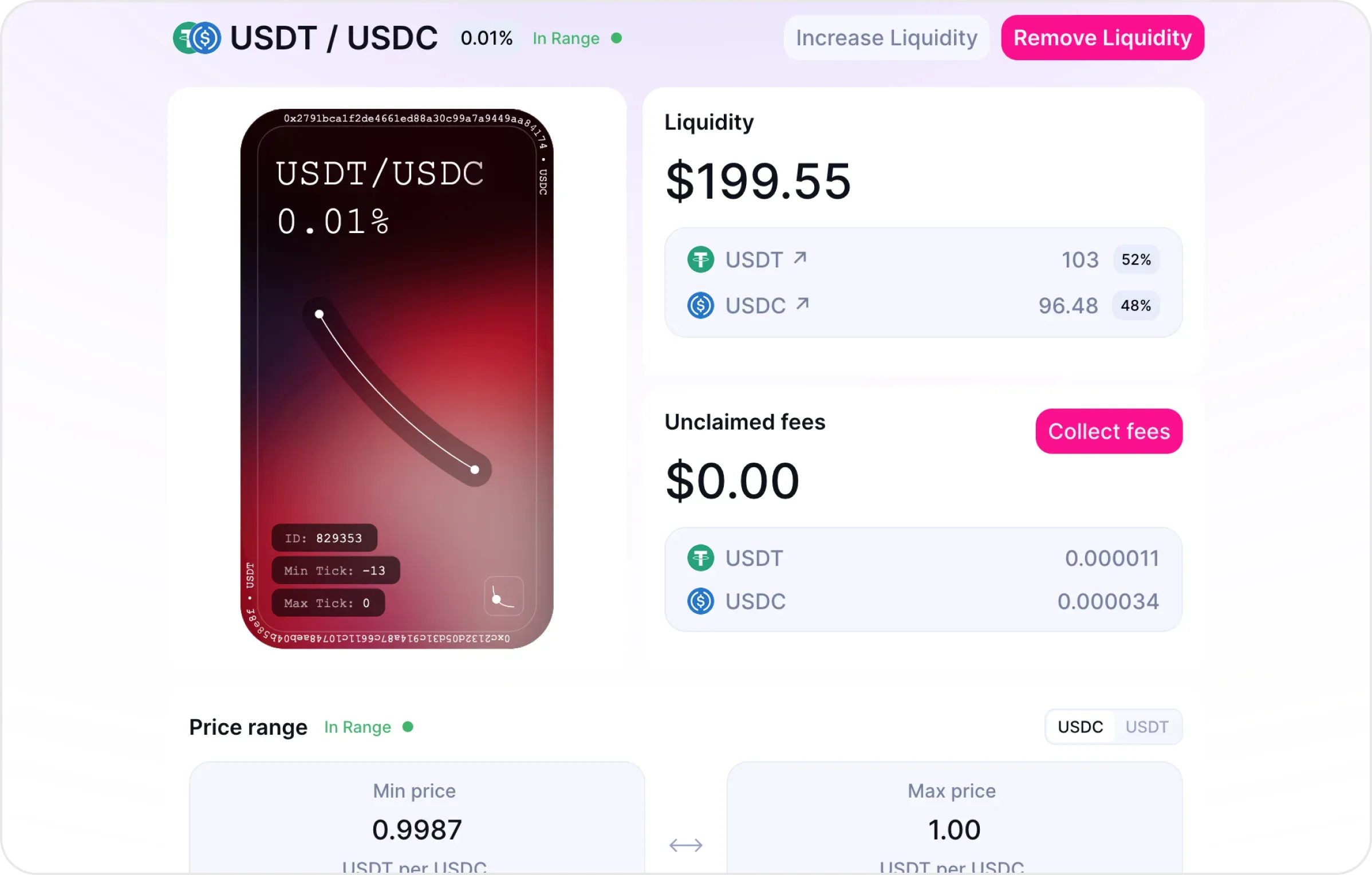 Thus, with this stablecoin pair, you can have passive income from crypto transaction fees.
The information in this article is not a piece of financial advice or any other advice of any kind. The reader should be aware of the risks involved in trading cryptocurrencies and make their own informed decisions. SimpleSwap is not responsible for any losses incurred due to such risks. For details, please see our Terms of Service.