What Is Umbrella Network?
Nov 30, 2022
5 min read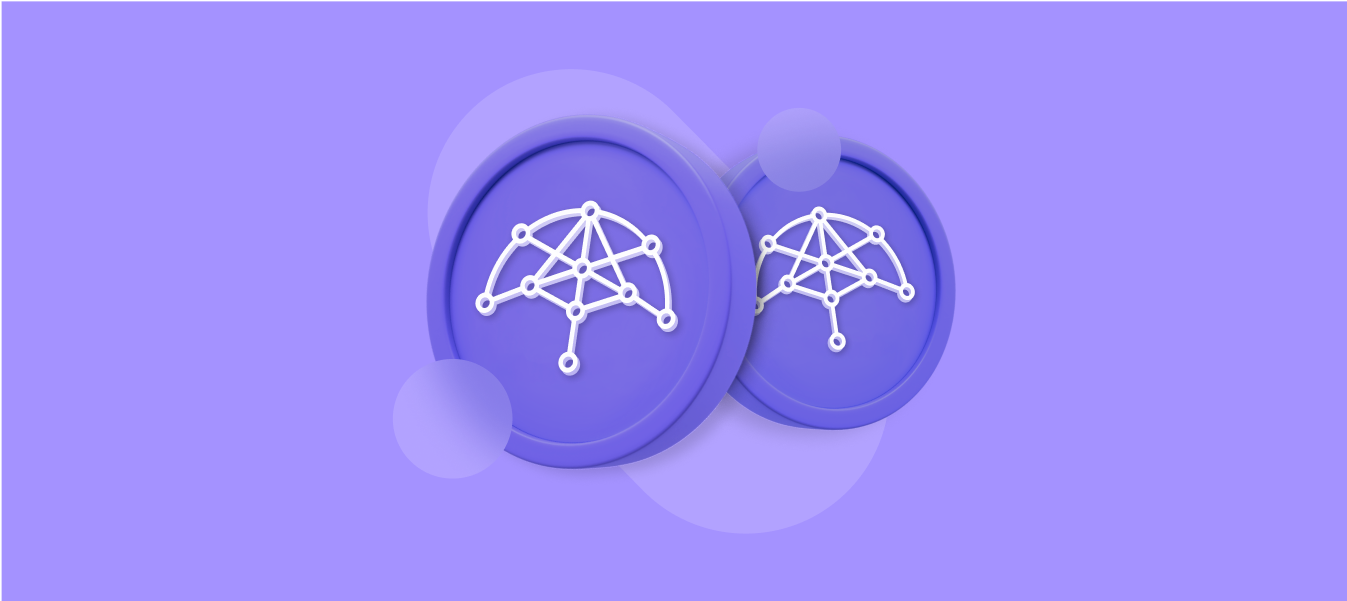 This blog post will cover:
About Umbrella Network (UMB)
Where did Umbrella Network (UMB) come from?
What are the advantages of Umbrella Network (UMB)?
What are the disadvantages of Umbrella Network (UMB)?
How to buy Umbrella Network (UMB) on SimpleSwap?
About Umbrella Network (UMB)
Umbrella Network is a decentralized, Ethereum blockchain-based oracle. This is a service that uses financial data from the real world, translates it to smart contracts, and makes it possible for decentralized finance apps to use. By creating a decentralized oracle service, the creators of the Umbrella Network solved an issue that often plagues centralized oracles — a structural weakness coming from having a single point of data entry. Having oracles that operate and receive information from the outside world independently increases security and trust in the data they provide.Umbrella Network has several tokens: UMB, rUMB (these are tokens that stakers receive as a reward; they can be exchanged to UMB with the rate dependent on time since release and the milestone tier achieved by the project), UMB LP (UMB liquidity pool token). UMB is the most popular token: it is used for utility functions like voting and staking, as well as a motivational reward for those who contribute to the network's development.
Where did Umbrella Network (UMB) come from?
Umbrella Network was founded in 2020 by a crypto, ad tech, and blockchain entrepreneur Sam Kim. Sam is now a senior advisor in the company, while John Chen is Umbrella Network's president. The goal was to create a secured, decentralized and scalable network ruled by the users who are motivated to support and develop it. In Sam's opinion, insertion of the real world data is the key to creating more powerful defi apps, while decentralised validation nodes help keep the data unaffected by centralised entities. These two factors make a network free from centralised control and censorship.
What are the advantages of Umbrella Network (UMB)?
Cheaper by the dozen



One of Umbrella Network's undeniable advantages over other oracle networks is low gas fees. Umbrella Network achieves this by using the Merkle Tree system: many transactions are united in one node, which allows this node to validate numerous transactions for the cost of one transaction on other networks.
Governed by everyone, controlled by none



Following Sam Kim's idea of decentralisation as the main concept, Umbrella Network's creators passed the reins of project governance to the members of the community. This prevents a single entity from taking over control of the nodes and ensures that data verification is secure. Members of the community can vote for or against proposals using UMB tokens.
What are the disadvantages of Umbrella Network (UMB)?
A bit late



When Umbrella Network is compared to similar oracle projects, its name isn't the first to come up most often. And for a good reason: there are some other oracle projects that were founded in 2017 and wasted no time growing in scale and popularity, so now Umbrella Network looks a bit too small in comparison. The market is not just about competition, it's also about who got there first. The question is "Is Umbrella Network innovative and loud enough to be able to surpass a giant like Chainlink as well as other oracle networks such as Band, API3, and Tellor?" Only time will tell.
Problematic tokenomics



The tokenomics developed by the creators of Umbrella Network were supposed to keep token holders' faith in UMB's stability. The fact that the rUMB token used for giving out rewards can be traded, led to users preferring cheaper rUMB tokens, because they can be later converted to the more expensive UMB. Ironically, this led to UMB's price decline. The community members put forward a proposal to prevent the same situation from happening to rUMB2.
How to buy Umbrella Network (UMB) on SimpleSwap?
If you were inspired by the idea of a decentralized oracle network or would like to invest in Umbrella Network's future and get some UMB tokens, you are welcome to the SimpleSwap service. Just follow the instructions:
For example, you want to swap

BTC for UMB

. Select the currency you want to exchange (e.g. BTC) in the first drop-downlist. Then enter the amount you want to swap.

Select UMB in the second drop-down list. You'll see the estimated amount that you'll get after the exchange.

Click the Exchange button.

Enter the Recipient's Address. UMB will be sent. Be careful and make sure you use the correct address.

Create the exchange.

You will see the Bitcoin deposit address. You need to transfer the necessary amount of BTC to this address to start the BTC to UMB exchange.
SimpleSwap reminds you that this article is provided for informational purposes only and does not provide investment advice. All purchases and cryptocurrency investments are your own responsibility.
We're launching a new edu app about crypto soon.
Leave your contact to become one of our first users!