What is Axie Infinity?
Sep 13, 2022
5 min read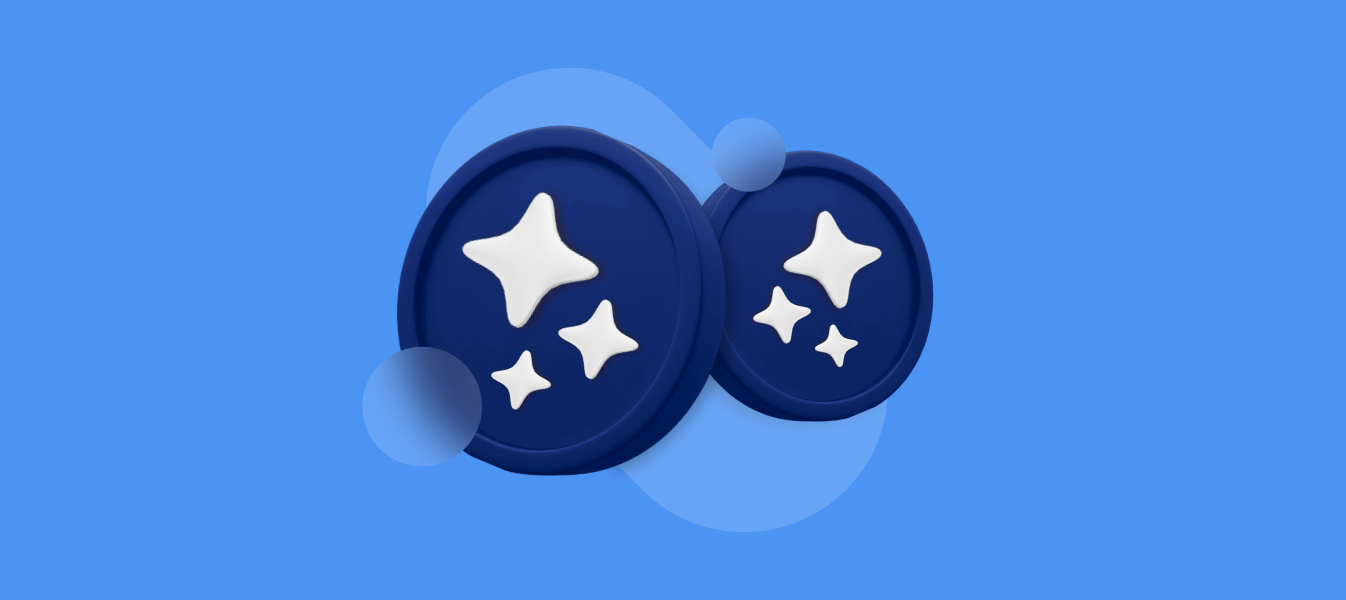 This blog post will cover:
What is Axie Infinity?
Where did Axie Infinity come from?
What are the advantages of Axie Infinity?
What are the disadvantages of Axie Infinity?
How to buy Axie Infinity on SimpleSwap?
What is Axie Infinity?
Axie Infinity is an Ethereum blockchain-based game where players own, breed, and sell creatures called Axies. Axies are little monsters consisting of six randomly chosen body parts. Besides collecting Axies, players can also assemble a team of three creatures and fight against other players' teams to gain experience and SLP (Small Love Potion), a token that is used to breed Axies.
Based on the success of other creature collecting games like Pokemon, Jade Cocoon, and others, Axie Infinity gives it a new twist: each Axie is a non-fungible token that can be bought and sold, allowing players to profit from their hobby. The pool with parts for creature creation is enormous: it provides an infinite amount of possible combinations making every Axie unique. However, creatures with rare and powerful parts are not easy to obtain, so players are encouraged to trade with each other. They also breed their Axies with other players' creatures purposefully, since each Axie can only be bred seven times.
However, the main token of the Axie Infinity game is AXS (Axie Infinity Shard), an ERC-20 governance token. Players can use this crypto on the Axie Infinity NFT marketplace to buy Axies, eggs, or pieces of in-game furniture, as well as use it to influence the future development of the game by voting for fund distribution. There are also plans to introduce staking with AXS tokens in Q3 2021 according to the project's roadmap. Last, but not least, AXS holders will receive dividends from the community treasury in the future.
Where did Axie Infinity come from?
Axie Infinity was created by the Vietnamese developer Sky Mavis in 2018. The project's founders are a programming and start-up prodigy Trung Thanh Nguyen, an avid and passionate gamer Aleksander Leonard Larsen, and a Yale graduate and once professional World of Warcraft player Jeffrey Zirlin.
They met each other through CryptoKitties, another Ethereum based game, and agreed that the project was far from being sustainable. This is how the idea for Axie Infinity was born: a game targeted at a specific niche of the cryptocurrency market, with a sustainable economic model and well-thought-out development plan. If you look at Axie Infinity's white paper now, you will see that Sky Mavis has been bringing their ideas to life for 2.5 years.
The game has gained the love of thousands of people and continues to surprise the world, the most expensive creature so far was sold for 300 ETH in 2020, while a plot of land was sold for 888 ETH (around $1.5 million at the time).
What are the advantages of Axie Infinity?
The game that keeps on giving
Axie Infinity helped many people gain income and continues to do so. The game is very popular in the Philippines, Brazil, Venezuela, and other developing countries.
ERC-20 based
AXS is the ERC-20 token, a lot of popular and trustworthy crypto wallets support this format, so AXS storing and transferring is easy.
More than a hobby
At the first glance, Axie Infinity is a typical creature collecting game, much like Pokemon, but with battle mechanics akin to Hearthstone. However, it is a very serious cryptocurrency project hidden behind a kawaii façade. Not only does Axie Infinity provide players with entertainment and income, but it also allows them to take their first steps in the Crypto World. Gaming is no longer just a hobby, it can be a source of both knowledge and income.
What are the disadvantages of Axie Infinity?
A high barrier to enter
In order to start playing the game, you need to purchase three Axies from the marketplace. The game has been out for three years, and prices for even low level Axies are high, starting at around $250. This makes it difficult for new players to get into the game and therefore participate in the circulation of AXS. There is a scholarship program where mentors lend Axies they don't use to scholars in exchange for 40% of profit they make. It helps in this situation, but the need to create this program in the first place came from Axies becoming too expensive for newbies.
Unexpected growth
The exploding popularity of Axie Infinity brought it both success and trouble. As the number of players grows and so does the load on the game servers, recently people started complaining about recurring connection issues. This can serve as an example of the game having only experienced its popularity growth so far, its economic model or working processes are innovative, and planned ahead, but haven't been stress tested.
How to buy Axie Infinity on SimpleSwap?
If you wish to become a happy Axie parent and get AXS, start by using the widget below or go to the SimpleSwap homepage and follow the instructions:
Choose the currency you want to exchange (e.g. BTC) in the first drop-down list. Enter the amount you would like to swap.
Select AXS in the second drop-down list. You will see the estimated amount that you will receive after the exchange.
Enter the Recipient's Address. AXS will be sent to this address. Be careful and make sure you use the correct address.
Check all the information you have entered. If everything is correct click the Exchange button.
You will see the Bitcoin deposit address. You need to transfer the necessary amount of BTC to this address to start the exchange.
We hope this article helps you get acquainted with AXS. Make sure to check out articles about other cryptocurrencies!