Meme World Portfolio
Sep 20, 2023
Key Insights
Allocating equal percentages to Dogecoin, Shiba Inu, Floki Inu, and Pepe creates a balanced exposure to leading meme assets with viral traction.
The meme tokens selected have unique brand symbolism, quirky backstories, and online fandoms that have driven their popularity among fans of internet culture and memes.
Spreading investment across multiple meme assets aims to mitigate risks through diversification, but the inherently volatile nature of meme coins remains an inherent portfolio risk factor.
This investment portfolio consists of meme tokens, each of which has its own unique features and symbolism. This makes them attractive to various investors and fans of viral content. The equity structure of the portfolio ensures an even distribution of funds in meme tokens, which helps to reduce risks and diversify the investment portfolio in this market segment.
Users can get all coins from a portfolio for fiat or crypto on SimpleSwap.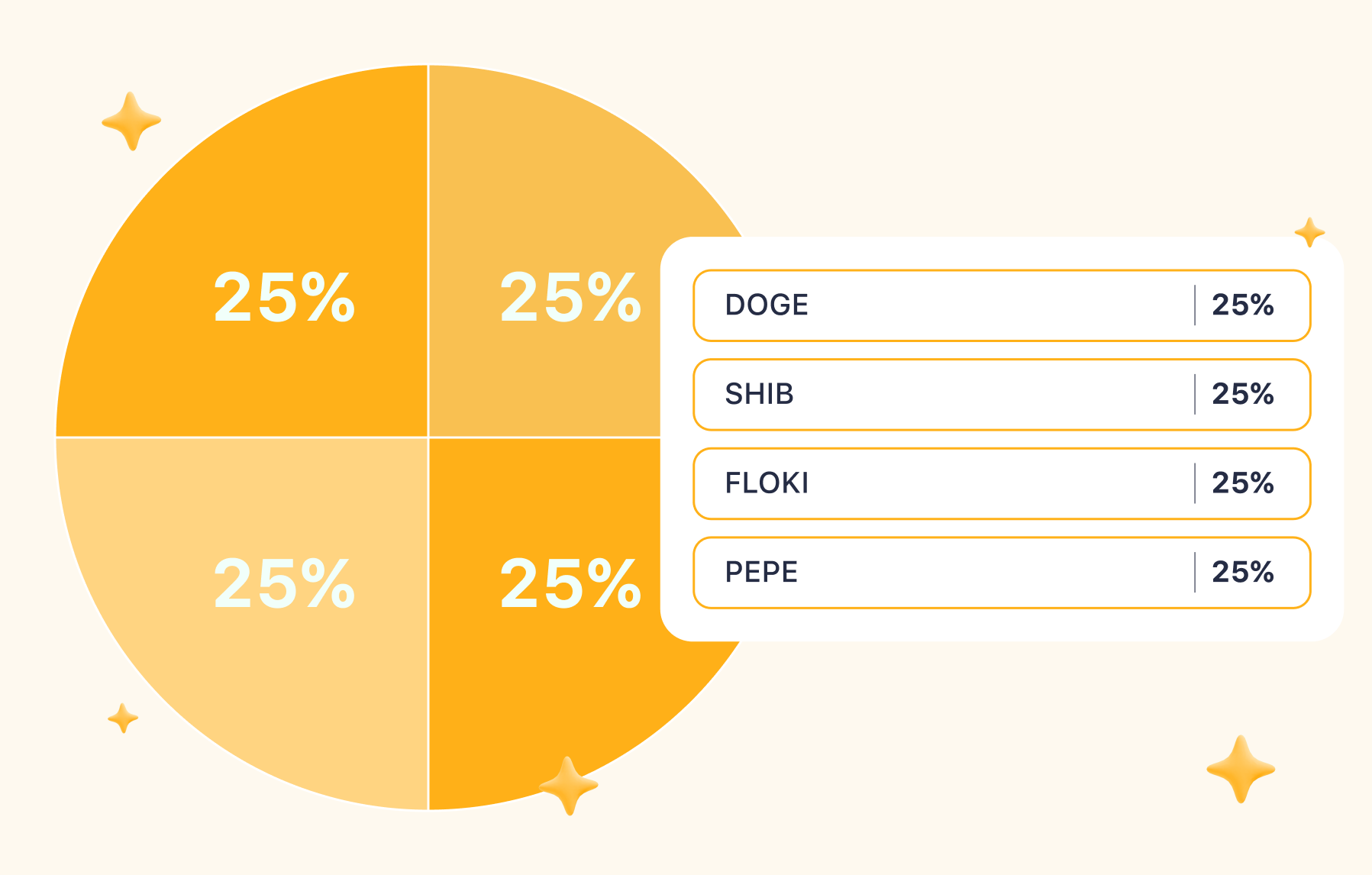 Dogecoin
Dogecoin (DOGE) — 25%
Dogecoin started as a joke but has become one of the most recognizable meme crypto projects. Its symbolism, based on a dog of the Shiba Inu breed, gives the project a unique and friendly character. Dogecoin has quickly gained popularity thanks to its community, memes, and massive support.  
Shiba Inu
Shiba Inu (SHIB) — 25%
Shiba Inu, also known as SHIB, emerged as an offshoot of Dogecoin and quickly gained popularity. Its symbolism is also associated with the Shiba Inu dog and memes, which has made it attractive to investors looking for high growth.
Floki Inu
Floki Inu (FLOKI) — 25%
Floki Inu, named after Elon Musk's dog, went viral after Musk himself named his puppy Floki. The project is being heavily promoted on social media and among Musk's fans. The Floki Inu symbol became associated with memes and gained popularity among investors.
Pepe
Pepe (PEPE) — 25%
Pepe is a meme crypto associated with a popular internet meme featuring a frog named Pepe. The project has attracted attention due to its meme nature and enduring popularity. Similar to other meme cryptocurrencies, Pepe has become a target of interest for investors and trading communities.
This portfolio provides diversification across viral assets, allowing investors to tap into the meme coin market while reducing risk through distribution across multiple projects. However, this is not the most stable portfolio option. To diversify assets, explore more predictable scenarios, like a leading DeFi coins portfolio or a top 5 indexes portfolio.
The information in this article is not a piece of financial advice or any other advice of any kind. The reader should be aware of the risks involved in trading cryptocurrencies and make their own informed decisions. SimpleSwap is not responsible for any losses incurred due to such risks. For details, please see our Terms of Service.